Q-Leanna's "Lucinda" Von Mulan "Lucy"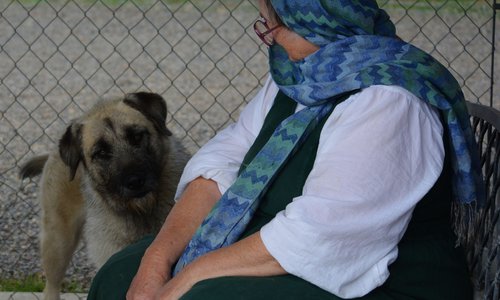 Notes
NOTES ON LUCY:
10-17-20: Lucinda is a soft dog that will be very easy to train. She is a lap dog and loves to watch the world go by in your lap (at this age).
As she matures she will be a lay down and let everyone pet me, even the cat and baby chicks. She will do almost everything you ask her to do, if you give her a nice reward. She is a thinker, so please let her think it over and give her time to do what it is she was told to do. She wants to get it right. Read my 'handbook for new puppy owners' and follow all the trainings.
1-19-21: Looks like Qleanna (her mom). Lucy is a fantastic female and wants to be someones family dog or personal dog. She loves kids and people and will be ok with other animals. She is fun loving and affectionate. Loves food. Will easily train for snacks but do not over feed her.
She weighs about 140 lbs. Short coated, thickens up in winter but is not bad at all. Easy to keep clean.
She has the girth and body of a Dire Wolf. She can accompany you anywhere and can walk with you for about 30 min is all. She might go more, but i dont push my dogs.
She is a home body and likes the familiarity of her territory/home. She might also like other peoples homes and will not mind a transition into a new home as she loves everyone and will be happy with your clan. I think she would go with a stranger if they had the leash or even if they called to her.
Not a watch dog in my opinion but she might be when acclimated and bonded to her new family.
She is curious about smaller animals as she is a kennel dog but would give your cats their space. Her size would be an issue with smaller delecate pets in the new home but she would do fine in time. She is a submissive dog. She will lay down to play with smaller dogs. She may live up to 11 yrs or more? Because she is a large dog. Large dogs life span is not as long as smaller dogs.
Prediction Litter: ? X LUCY
Why:
The following is a 'prediction' of what i think we shall get
Ears:
Head:
Eyes:
Hight:
Weight:
Feet:
Tail:
Coats:
Conformation:
Color:
Temperament:
Notes:
Health Record
HEALTH RECORD OF LUCY:
Aug 2021 in season. Should be in heat feb 2022
D12/27/2021 uramune Max 5 -
Aug 2021 in season.
1/14-19/22 bleeding in season
put in with Ironheart but he is not interested.
People interested in this Dog/Bitch:
Photo Gallery
Lucy and Lois
Lucy
Test Scores
Test
Birth Scores
(Oct. 17, 2020)
Intelligence (process of thought)
9
Pitch of/Vocal sounds
10
Barking
9
Whining and talking back
10
Prey drive
8
Chewing
8
Swallowing stuff
9
Dominance/aggression towards humans
10
Challenging owner/trainer
10
Child friendly
10
Dominance/aggression towards other dogs
10
Dominance/aggression towards smaller animals
10
Soft/hard bite (mouth)
10
Touch sensitivity
10
Emotional sensitivity
9
Sound sensitivity
10
Ease of training for the average person
10
Velcro (not wanting to wander)
9
Genetic hyperness or Energy level (pacing the fence line)
10
Investigative or inquisitive (independence)
9
Stubborness (doing what it wants instead of what you want)
9
Eating of feces
10
Sanitational pooping in the designated spot
10
Sloppy drinking
9
Age of life
12
Health issues
0
Retrieving or carrying objects
9
Digging
9
Conformation
9
Girth
10
Eyes
9
Ears
Nose
10
Girth of Skull
10
Length of Tail
10
Feet
10
Neck
10
Topline
10
Gait
10