Stella's "Pepper" Logan Von Winston
For Sale: $1800.00
Notes
Notes:
10/24/2022 800 dollar adoption fee reflects the neuter fee and food upon return to us. Must fill out an application and come to us to meet this boy and ensure you are the right home for him.
9-5-22: Pepper has been through hell and back and for a 'sensitive' over thinker, it devastated him. He was too young and impressive to have gone through a severe let down. The new owner put this sensitive male in a home with another dog that was a pistol and did not get along with him, thus the man and woman that owned that little dog hated and feared Pepper so Pepper did the only thing he could do and that was to slink around and be as invisible as possible, not interacting with these 'human beings' and their pack dog. Being a piece of clay without blemishes, this dog was now being molded to deal with life as he saw it. His only 'rock' was the new owner and the rock crashed, fell and broke his leg/hip. The home territory went into a frenzy, the police and ambulance rolled in and Pepper was scared and cornered with his 'rock' on the ground and without any protection or 'safe anchor/base'. He now must defend his only Safe Rock, his owner from this turmoil and defend him he did !!!! Just like he was suppose to! I am so proud of him, but.......... He had to be cornered and shoved into the old man's room to stay there, without any human approach, nor food, nor water? (so i heard) Until his 'rock' should return.
The old man loved this dog and Pepper bonded to him as a dog will. The 'rock' of his life took him EVERYWHERE with him. Pepper was the happiest in the back seat of the xtra large pick up truck! He was fed good meat and the old man was teaching how to 'fetch' a ball. Most of the time, i believe he was off leash in the back yard with his rock' but needed to be on leash around the smaller dog to walk through the house and into the bedroom where his 'rock' lived.
While his Rock' was in the hospital, we got a call to come help them with Pepper and we rushed out to go get him. We didn't know the trauma until Samantha Gage got there and saw the damage. Pepper would not allow anyone in the 'rocks' room so no one had gone in. Sam entered the room and sat down on the bed and called pepper to her. This is when he KNEW what he was trained to do. He came into her body and hugged her. She put the leash on him and he was ready to go. All he needed was a friend, some help and he was driven back to the farm.
At the farm he was a mess inside him, i could see this so i put him in a kennel by himself, small enough that he could not run and hide. He had to face life now and he was safe and back to the familiar place where he grew up. It was going to take some time to cool down all this 'stuff' inside him. He paced, he jumped, he whined, he was nervous for anyone to approach him, even me. He wanted to come see me but he was afraid. He did not know what to expect. There was no 'schedule'. There was no consistency in his life now, so... back to step one. Let's make a schedule and keep on it.. Soon after a month he was back on track, but still uncertain with humans. I asked everyone to go in and sit and pet him only when he sat up and did not crawl on the ground. He needed confidence built up in him so that he can come to me with a proud soul. I would not pay attention to him if he crawled, only if he put his head on my lap. He jumped around in his nervousness, pounced and did a happy dance. (nervous). I would not tolerate that. "you get NOTHING until you act properly''. Soon he was calm and today he is back to his old self.
He is still on touchy ground and NEEDS someone that can do what is needed to help him get over the issues he still has going on in his memories of life outside the kennels.
He has been neutered and even that was a chore. He growled at the attendants. He probably had to be muzzled but they did not tell my daughter if they did or didnt muzzle him. They said, he bit his flew area. I never saw a dog bite the flew area of the mouth, but ok. It is more like the tie down was too tight? But i was not there, so i can not say for sure.
What this boy needs is someone to show him the world in a safe way. From a sitting and observing distance AND to not allow him to show any signs of aggression. To actually BE HIS ROCK and not to let him down. To take charge of him and his feelings as he is not a dominant dog, he is a follower. He will keep you safe. He will tell you when you are sick if you pay attention to him and read him. He NEEDS someone to read him. To hear him.
So this is what i am looking for. He is FREE to this kind of person. You can not bluff me or him, we will know it. He needs a STRONG person that can tell him to stop growling, its ok and mean it. Then reward him for correct behavior.
This dog is special to me. He is the world to me. He can stay here forever if he needs to, but... I am sure there is someone somewhere that needs him as much as he needs them. He is a gift.......... of love and misunderstanding. He is a baby boy. He loves to cuddle on the bed with his rock and will give his life for you. <31-17-22: Pepper is the best dog a person could have. He is bonded to his owner and no one else. Though he is friendly to everyone and loves to be petted and talked too, he will stay devoted to his person. He is extremely intuitive and can feel your vibes.. He is in tune will all people and animals and has this as an instinct inside him. He will be able to tell if you are hurt, injured or depressed. He would be able to alert you to anything you wanted him to if............ you know how to reach him. He reads body languages. He has sharp ears and eyes and is a thinker. I kept him and bred him for a reason, he is that good. He does not resemble a mastiff. He looks exactly like a wolf and everyone will agree and even argue with you, that he is indeed a wolf! Of course he is not. I have used him and overly used him to breed all my girls with, (he is that good)... His coat and color are DIRE WOLF.. He is not too large, not too big either. He can jog a bit and will hike at least 30 min or 45 min until you train him one step at a time. Easy does it. He is not really a hyper dog, but he can be hyper in short spurts. He is more of a thinker and doesn't want to displease you. He wants and needs attention. He is not a 'baby' he is more mature and never was a baby.. I don't keep 'babies' i like a mature pup and this guy was the one. I would keep him if i could. Even though his ears never went all the way up, he holds them back like an irish wolfhound and to tell you the truth, he does look more like the IW than his mastiff x dad. He got the OTHER genes...
I also think once he is bonded and part of the pack.. he would put his life down for his master. He should live up to 15 years without any medical issues. He is a solid dog and i love him.
He is up for sale to the best person ever.. If you have ptsd, you will love this boy.. He is 'safe'.
5-25-20: Fourth pup born. Black silver sable. Black mask.
6-30-20:  Pepper is a middle of the road pup. A tad bit standoffish as he should be at this age, but that will not be for long. He is bold and inquisitive enough to come forward now. Showing his growing nature and coming into his own. He is all about himself at this age. What ever it is he wants, he will figure out how to get it. He is extremely intelligent. He is not the boldest in the litter, YET.. but he is learning.
He is a striking pup and doesn't know how great of a pup he is yet, but he will. He will not ever be aggressive and will be a puppy for up to 3 years. He will lift his leg about the age of 13 months old and you might not need to neuter him if you do not wish to. He will be a stallion of a male.  Ears will/should be erect.
6-7-20: All pups went out into the den outside and collars have been taken off so nothing can happen to them. We shall see who survives and who comes out first and last. Small pup. Smallest male in litter.
6-2-20: Silver gray with black points. white chin, feminine face. Did not like to be placed on back. Squirmy. Cried a lot to be put down. wanted mom. a very nicely put together pup. beautiful.
5-30-20: White throat. 2 w/rear feet. silver peppering on coat.
5-25-20: fourth pup born. Black silver sable. Black mask
Health Record
BORN: 5-25-20
NemexII - 6-14-20; 6-29-20; 7-6-20; 12-12-20
Dhalp+Cvk - 7-6-20; 7-20-20; 7-30-20
Duramune Max 5 - 12/27/2021
Aug. 2022 Neutered . Amoxicillin. Very sensitive to this neutering. He was upset when he got home.

Photo Gallery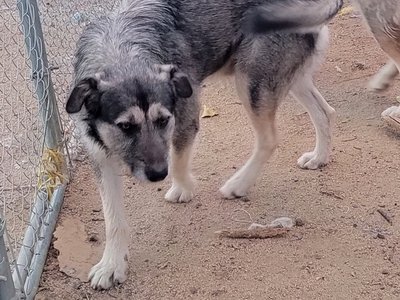 Up for adoption after he is done being a "stud" :)
Test Scores
Test
Birth Scores
(May 25, 2020)
Intelligence (process of thought)
9
Pitch of/Vocal sounds
8
Barking
9
Whining and talking back
9
Prey drive
10
Chewing
9
Swallowing stuff
10
Dominance/aggression towards humans
8 He was rehomed and came back an 8 instead of a ten
Challenging owner/trainer
10 He knows weak people and will dominate them
Child friendly
9
Dominance/aggression towards other dogs
8 Intact
Dominance/aggression towards smaller animals
7 I would not trust him
Soft/hard bite (mouth)
9
Touch sensitivity
9
Emotional sensitivity
7 Came back from a rehome with a lower score than what he went out with.
Sound sensitivity
10
Ease of training for the average person
10 Was a 10 before he was rehomed. Now an 8
Velcro (not wanting to wander)
8 is devoted to this farm and me. Intact male new score 6
Genetic hyperness or Energy level (pacing the fence line)
10 Was a 10 before his rehome. Now a complete mess. 5. Will come out of it soon.
Investigative or inquisitive (independence)
10 doesnt care.
Stubborness (doing what it wants instead of what you want)
9
Eating of feces
10
Sanitational pooping in the designated spot
10 Never in house before he left us, Now he is not trusted inside.
Sloppy drinking
10
Age of life
10
Health issues
10
Retrieving or carrying objects
9 Came back not retrieving.
Digging
10 Might dig out.
Conformation
7 Conformation is nice as he has matured. Still on the small side but throws large pups
Girth
7
Eyes
9
Ears
3
Nose
10
Girth of Skull
10
Length of Tail
9
Feet
10 large
Neck
10
Topline
5 Not Long Enough
Gait
8 choppy
Litters
Pepper X Needle 2022
---
---
About the Litter (American Alsatian)
Prediction of Pepper 1st litter of pups :
WEIGHT: 80 - 150 lbs. A variety of sizes. See the pedigree. There may be a few pups on the small side. 65 - 80 lbs?
EYES: light brown/amber to yellow
EARS: All erect (up) ears. Some ears going up at 6 wks with the largest pups ears up at about a year old?
COATS: Coats should all be Dire Wolf coats of medium length with longest guard hairs on shoulders. Some coats short coated reflecting Mastiff (winston) grandfather off Peppers side. Most will be an intermediate. 2 males might have longish coats. a few might have some whiskers but should be only a small amount making the dog look more dire wolfish in my opinion. None should be Irish Wolfhound looking with that long wiry coat. Remember that Naga and Winston (mastiff f-1) are the grandparents.
TEMPERAMENTS: All pups will be companion dogs, lovable, on a scale of bold to more reserved. Some will be investigative and more outgoing than i like, but with the sensitivity of their emotions and wanting to do no wrong, it will all balance itself out. If the grandfathers push through in some of the pups you will have a bit stubborn and wanting to do for themselves as youngsters. Train accordingly. Pepper is submissive and easy but with the mastiff zoomies when happy but this can be trained down in him so i have no concerns of this in the pups. Needle was the most forward and bold pup in her litter so you will have some bold independent pups which some people like.
What kind of people will fit these pups? Intermediate dog trainers to professional dog trainers will be the most happy, just remember these are still NOT working dogs. Those that have never had a dog before, well, there may be one or two pups to fit you also. Energetic middle of the road folks. There may be one or two for a slower paced family. Pepper was chosen for his intelligence and good wire coat wolf look. He has a long line of ugly intelligent dogs in his pedigree, lol.
PRICE: 2,800 to 4,800? depending on the size of the litter. I only want/need to keep one. Amey may want one and Jen might want one? No crystal ball.
COLOR: Color will range from creams with black points; silver sables with black masks and points; and you might have a sable/tan? Those with light pigments will be sold cheaper. Hyper barking pups will be sold cheap but we never have any of those. But you never know.
WHY: Why breed these two? 1.) This is Needles first heat and I only wanted to use a stud that was gentle yet firm and knew what he was doing as well as being a proven stud. 2.) Needle was the smallest pup in her litter, but grew to be larger than Anastasia her mom. sheesh, who'd a thought? I never want to rape my bitches so i use a stud that will make the experience a nice one. I felt this was the right male for her first litter. I do plan on keeping her after this litter if she wishes to be a momma more times.
Litter size: 10
Notes: Most of you will remember that i chose Needle for the Fox project. I am still working on using her when the time is right. Laddie boy is unproven, sensitive and not smart in being a stud dog as of yet. So he gets a lot of practice with our females first. He is still learning.
IT DOES NOT APPEAR THAT NEEDLE HAD ANY LADDY BOY PUPS THAT LIVED.
Prediction Litter: LADDYBOY X NEEDLE
Why: I am very excited about adding a 'Collie' to my 30 yr long dire wolf project, though we will be shifting out of the Dire Wolf project and into the 'Fox Project'. A lot of folks have wanted me to do this. Folks liking the smaller fluffy cuddly dog breeds and what is better than the look of a fox? Some of the pups may go back into the dire wolf project, we shall see what we get. I am over the moon with LaddyBoy btw, i never expected this right out of the chute.. to get a breed of dog that is not spazo hyper? I have groomed Collies and have liked them, well, all but the hair/coat. Way over board with that stuff. They were ALL very well behaved but i thought that might be environmental and training. Had I known that a working breed such as a collie would fit the bill, i may not have ever created the dire wolf Am Alsatians. So, i am excited to see what we will get.
The following is a 'prediction' of what i think we shall get
Ears: all pups WILL have erect ears
Head: Not a dire wolf head as narrow is dominate over wide. Med is what you will get, an inbetween.
Eyes: I am hoping for slanted eyes. Brown eyes and some light brown. Sorry, no yellows yet...
Hight: Smaller than the dire wolves. 20-24 ?
Weight: 85-100 lbs
Feet: small and oval in shape
Tail: All tails will be hooked as well as slightly curled.
Coats: Coats will be thicker than new born collies and will fluff out into a puppy coat before the guard hairs come in. At about 3 or 4 months of age, the guard coats will start popping up through the baby fluff making the dogs look darker. Puppy coats will be light cream with a tinge of gold/yellow highlights
Conformation: FANTASTIC
Color: Reds/Golds/Sables and maybe some tri black and tans? one? All pups should be sables even though the Collies are what is called a solid color. Black tipped guard hairs.. Black and white tipped tails. Black inverted V sent gland marking on tails. Black masks and no masks. Black tips of all extremities. White stockings on all four feet. White bibs and some White collars. White blazes up some faces.
Temperament: FANTASTIC and wicked smart. too smart for most folks.. very insightive. watchful.
Notes: What i am thinking we will get is a fantastic litter of highly intelligent pups, thinkers, and we even might not have hyper pups! The females will probably be a bit screwy as most females are ... too playful for me but not for a family, sheesh, i am an old gal, i need quiet pups... but i do think some of these pups are going to AMAZE me..Thinkers all of them.
July 5th 2022 notes ON NEEDLE
Getting ready to whelp next week on the 15th or there abouts. She is doing as she is told, going without a leash on, into the house and into the closet for her training up to her whelping. She remembered the routine. She is in the back yard close to the house and my everyday training is paying off as she is maturing. Turing into a very nice dog. I am hoping that she will be a great mom. We tried her with Laddy Boy but he was not old enough though she tried to teach him. She stays with him in a large kennel and they are buds. I want to try Laddy once again after this litter. If he still doesnt know what to do and she doesnt get p.g., then we shall go ahead and sell her and use her daughter or another gal to go forward with the Fox Project. I am hoping they breed. I have waiting patiently...
---
---
Pepper X Lori 2021
---
---
About the Litter (American Alsatian)
11/15/2021 They are on their way!!
11/9/2021 Lori is having the time of her life in the house, getting chicken, goodies and lots of love! She is due any day and we will be keeping the site up to date, as well as Lois's Facebook page (if you have not friended her, you can do so at https://www.facebook.com/schwarzkennels)
11-27-21: Ok, here is the update on the Lori x Pepper litter. BETTER THAN THE PARENTS is what we have here! As we figured, but as breeders we have to assume the worst and wait for the best. Again, we have DIRE WOLVES...............Since we kept 4 of Qleanna's pups to be absolutely sure we would have pups from all that i have done before this, we can sell all but one. But which one? Everyone but the white face pup has scored HIGH on our AmAlsatian charts and this is why it is so difficult for me to 'choose' which one stays. So how we go from this now is... Who do we NOT need..... This is now coming from a 'breeders' view, not as a pet owner or DireWolf owner as all pups will be direwolfish looking as i predicted when i kept the four out of Qleanna.
I am extremely clingy with these pups and i am not easily going to let them go. You are going to have to pull a rabbit out of a hat to get one away from me.. Ok... So, as a breeder we do NOT need a female.. (lucky you that want females !).. Those will be the first up for sale. As a long time breeder i shall keep ONE female up in price (just in case) as we do NOT want to not be able to bounce back if (God forbid) something should happen to any of these pups, so now i can put prices on the females. [This is how we do our choosing and pricing]. Go to each pups page and the for sale page for prices as they come down...At six weeks old we shall have our pick and all prices set... Thank you for loving my dogs <3
12-7-2021 All puppies and Lori were wormed with NemexII
1/6/2022 Please see the individual puppies pages for additional notes.


---
---
Pepper X Elsie 2021
---
---
About the Litter (American Alsatian)
Elsie was bred to her brother 'Pepper' in her first season in hopes of getting any fox project pups. What we ended up getting was Saigon duplicates as Saigon was the grandmother on both sides (4x) which quadrupled all dogs down the line in the Saigon's pedigree. We also doubled Winston which is and F-1 out of Englsih Mastiff lines so we ended up getting some very LARGE puppies which blew me away.
Saigon is not a really LARGE dog, so i thought she would make smaller pups in the uplines, especially since the mother of these two dogs "Stella" was not a large dog herself. Put that together with the INBREEDING going on, and i figured we would get small pups. Well that did not happen. We got DIREWOLVES...
At the time of this writting, her brother is now a mastiff direwolf, with a very thick neck and broad shoulders. He was the runt of the litter! Go figure??? Very slow growing into his own.
Elsie herself was slow in growth and both Pepper and Elsie were what i considered the 'runts' of the litter.
We were going to keep the JOKER but God put a new owner in front of me that needed him. We could always rebred this litter again since we only had 2 pups.
---
---
Pepper X SuSu's Hachibi Von Mulan 2021
---
---
About the Litter (American Alsatian)
---
---
Pepper X Pebbles 2022
---
---
About the Litter (F3 American Alsatian)
Please see updated notes here: Pebbles X Pepper Litter
NOT FOR FIRST TIME CLIENTS! MUST TRAIN!
These pups are more active/working than our typical AA. (When compared to AA's, never other breeds!) These pups can do small hikes, possible service work. (We do NOT breed working dogs!!)
9/6/2022 843 PM first pup born. So large she had difficulty. GREAT mom. Super attentive, cleans them well and took Leloo's puppies on when we found out Leloo didn't have milk.
9/6/2022 Okay... lol, this gal plans on having the pups pay rent! As God plans, they will come when they come and as sperm can live inside the bitch for up to or more than 5 days, the due date isn't always 63 days from the tie as we are finding out here!
8/26/2022 Pebbles (Razar X Tudor) is inside getting bathed, brushed and enjoying the A/C as we wait another week for her puppies.
All puppies will be silver wolf gray with yellow eyes and up ears. They will be forward and 70 percent will be happy, forward and will need experienced owners. (You need to know routine and repetition as these pups will be smart as whips and ready to do for you. We don't breed working dogs, but some of these will have the drive to do this being outcrosses).
If you're looking for a smaller (largest males might get to 135) but solid silver gray Dire Wolf that looks more like a gray wolf with heavy bones with mane and guard hairs that are black tipped, be sure to get on the interested list!
If you aren't on the waiting list, you can do so at our website.
*note the Anticipated Litters tab for the AMAZING Leloo X Ironheart litter too! Extra large, yellow eyes, up and semi up ears and stunning ight even have a few reds which we do not keep... if you're not on the lists, and you don't let us know you're ready, we won't know!
Have a great weekend!
https://kingsleykennels.com/litters/1636/
About Pebbles:
Pebbles is a sweet, forward, slightly stubborn female that wants to make everyone happy. She holds the better parts of Tudor in that she doesn't hold his reservations. She is more bold, but bold in a confident way.
This breeding will do a few things as shown below, but the biggest, is that it will help cut down on the massive undercoat this gal has from the Malamute out-crossing done with the Giant Malamute Rainier in the early 2010's.
We will be looking for the largest male or female, dark, harsh coat (as we want to get away from the fluffy/cottony undercoat that does not match breed standards), black tipped guard hairs and yellow slanted eyes with heavy bones.
WEIGHT: 105 (females) to 150 (males)
EARS: Amber to yellow eyes with high possibility of up ears by 11 months.
COATS: Coats should all be Dire Wolf coats of medium length with longest guard hairs on shoulders.
TEMPERAMENTS: All pups will be companion dogs, lovable, on a scale of bold to more reserved.
PRICE: Remember that large dogs are babies for a long time and mature at 2 - 3 yrs. 2,800 to 7,800?
COLOR: Color will range from silver to dark sables with masks.
WHY: First and foremost, Pebbles first litter needed to be with a male that was experience, yet small. Pepper though not the intended male, is an execptional choice.
Pebbles has a very thick, medium length coat that comes from her father Tudor. It is cotton underneath, yet her guard hairs are long and coarse as they should be.
By breeding her to Pepper, we will eliminate much of the thick undercoat that makes it hard for her to shed, and will give way to longer guard hairs and a lighter undercoat.
Very Dire Wolf in coat. Some pups will be on the shorter height range, but bones will be solid. Confirmation will be solid and equal in length and height.
We will be picking the darkest pup with black tips on the guard hairs, the most slanted eyes, yellow in color and the straightest tail to move forward. Pebbles will be bred to her intended match after this, UNLESS she and Pepper give us a unicorn. :)
Litter size: 6-9
---
---
Pepper X Anastasia 2021
---
---
About the Litter (American Alsatian)
---
---