Anastasia's "Needle" Von Naga
For Sale: $2000.00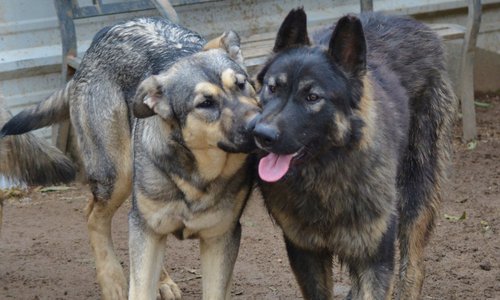 4:30am. Red Female. 3/4 LB.  feet first. lightest pup so far. hybrid color. no mask. silver sable w/red tint. Low pigmentation snownose@birth. w/tip. pink skin. wish bone white chest. long tail. small. Really long tail. shorter legs. silver leggings. long body. silver brown checks. No mask. not black. kind of reddish brown. silver shoulder blades. silver sides of ribs. small pink lips. pink belly hybrid black. is not real black. Red starting to make some noses now. long pup. small w/sock/toes r/front. very small. w/toes rear. w/toes sock, left front. should resemble Anastasia but better looking. Small. Sleeps and eats.
11-17-21: Needle will be for sale AFTER her first litter of pups.
Nemex II 02-10-21; 02-24-21
Anastasia's "Needle" Von Naga X Sela's "Okra" Von Naga "Onyx" 2022
---
---
About the Litter (American Alsatian)
This is tentative, as her next litter date will be different if she is currently pregnant.
---
---
Ashley's Naga von Buck
Bellatrix's Uncle Buck Von Fremont
Fremont Street Von Vegas
Belatrix Lastrange Von Merlin
Dorians Ashdown Forest Ashley von Boss
Boss Big Daddy
Shenanigan's Dorian Von Boss
Vegas's Anastasia von Boss
Boss Big Daddy
Nadine's Blade Runner
Blossom's Stormy River (Sina)
Vega "Vegas"
Vallecito's Storm
Franny von Tax