Anastasia's "Noodle" Von Naga
11-18-21: We call this 'pattern' a Black and tan, though it could be a Black and Cream or a Black and silver. We usually do NOT keep this color as our dogs must not resemble the GSD or any other pure bred dogs.
Noodle takes after his dad. Energetic as a pup, not liking authority or rules and regulations. Never been trained. Will be easy to train when i get around to it. Long/thick malamute looking coat. Long coats are produced on the sex (male) genes. He will throw med and long and shorter coats. Under coat is not approved for a dire wolf, but a thick undercoat is recessive as is black and tan pattern. He is being kept for his bone structure, size and girth as well as his genetic lines. He is a 'stud' dog and not chosen as a 'companion dog'. He will bring excellent quality and consistancy to our lines.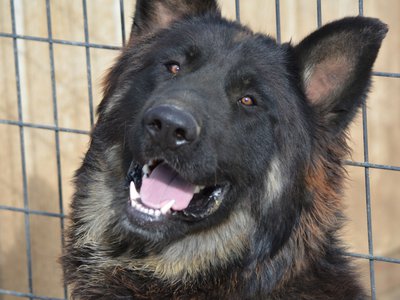 Naga Smiles
Naga the Bear
Ashley's Naga von Buck
Bellatrix's Uncle Buck Von Fremont
Fremont Street Von Vegas
Belatrix Lastrange Von Merlin
Dorians Ashdown Forest Ashley von Boss
Boss Big Daddy
Shenanigan's Dorian Von Boss
Vegas's Anastasia von Boss
Boss Big Daddy
Nadine's Blade Runner
Blossom's Stormy River (Sina)
Vega "Vegas"
Vallecito's Storm
Franny von Tax