Anastasia's "Noodle" Von Naga
Notes
1-10-2021 1:12 PM Orange. Male. Black. Long. W/TOES/CHEST. HEAD FIRST. W/CHIN 1.41 LB BLACK SKIN. 1-23-21: Black male Stud co-ownership? Temper. stubborn. independent at this age.
11-18-21: We call this 'pattern' a Black and tan, though it could be a Black and Cream or a Black and silver. We usually do NOT keep this color as our dogs must not resemble the GSD or any other pure bred dogs.
Noodle takes after his dad. Energetic as a pup, not liking authority or rules and regulations. Last to come out of the den and very standoffish as a pup. This litter was never been trained. Will be easy to train when i get around to it. Long/thick malamute looking coat. Thicker undercoat than guard hairs. Long coats are produced on the sex (male) genes. He will throw med and long and shorter coats. Under coat is not approved for a dire wolf, but a thick undercoat is recessive as is black and tan pattern. He is being kept for his bone structure, size and girth as well as his genetic lines. He is a 'stud' dog and not chosen as a 'companion dog'. He will bring excellent quality and consistency to our lines.
1-17-22: Noodle is a lover and a hugger. He is slow to mature as large heavy dogs are. He is submissive to all other dogs and at this time has not yet bred as no one wants him on top of them as of yet. He must weigh about 130 lbs at this time. He is being trained to come when i sit down and to come into my open legs for hugs. He has been on a leash 3 times in his life. He is laid back and easy going but can run and hop around and be silly for about 10 min or so. Is not a hiking dog or a jogging dog. He is a companion dog.
Health Record
Nemex II 02-10-21; 02-24-21
Corona Distemper Adeno2/Parvo 3-1-21
Duramune Max 5: 03-15-2021, 12-27-2021

Photo Gallery
Naga the Bear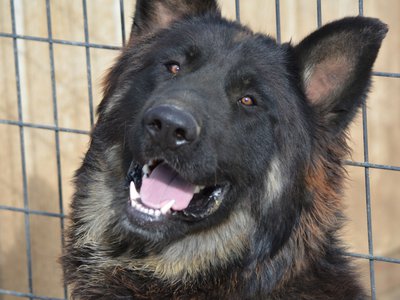 Naga Smiles