Q-Leanna's "Lori" Lynn Von Mulan
Notes
LORI NOTES:
Lori is an amazing and beautiful soul of a dog! She has so much love to give and we will be looking for just the right home to place her in. This girl gives the best hugs and even when she is over the moon excited to see you, she will settle and just wait (though impatiently) for you to let her put her head on your shoulder and just love on you.
Lori will do well with anyone. First time dog owners are also ok. I will not do so well with first timers, if you don't put the time in to learn how to talk to dogs. She deserves your communication skills. Med long coat is easy to care for. Sheds once a year in April - may.
If you are an older couple, she will do wonderful. She is only hyper for 3 seconds as she bows, scoots in her excitement then comes into your legs for hugs. She is heavy in weight so you need to train her. She loves food so go easy on the treats. She might fetch for you (and treats) but i never taught her that. She lays down when you pat the floor and talk to her. She is not an OBEDIENCE champion, sheesh... She is a companion dog and fits the description to a T. If you are too soft, she will get over on you and will test you to see if you will 'follow through' with what you are saying to her. Do NOT ask her to do something more than twice. It is obnoxious and boring to her. She doesn't think she is a 'slave', she really thinks she is a part of the family members. She loves to be pampered and will stay laying down for ever if you are brushing or petting her. She needs to be with you and may sleep touching you so she doesn't lose you.
She will have a special relationship to everyone in the family. She is standoffish enough with strangers but if you introduce them and they ignore her, she will love them as soon as they sit down on the couch. She was TRAINED not to bother you if you are standing up, so SIT DOWN... (that's an order).

Lori will be available for re-homing when her puppies are 8 weeks old. She IS the best dog you will ever own. ~ Lois

Prediction Litter: PEPPER X LORI
Why: This is a young female and Pepper is a seasoned male. Not a bad pairing as Lori is all girth. Lori is a Naga pup and Naga is 3 generations of dire wolf looking males. Dark brindling though lori is a light golden sable kind of a dog. pepper is not a 'mastiff' looking dog at all. He is a peppery color of agoiti like coloration and looks more like a wolf or german shepherd dog. I love his wolfish coat but it was short when a pup. Like the IW that he took after, his coat has been growing as he matures. Slow and steady this boy is looking more and more like a mastiff in girth/size. hmmm...
The following is a 'prediction' of what i think we shall get
Ears: All pups should have up ears.
Head: All pups should have a nice size head.
Eyes: All pups should have light colored eyes
Hieght: med/tall
Weight: 125-130
Feet: med
Tail: SHORT nice straight tails
Coats: I am hoping all coats are pepper coats with some harsh outer guard hairs
Conformation: should all be nice straight solid dogs
Color: some should be silver sables but most will be gold sables with dark skin and points
Temperament: Fantastic laid back pups getting only better with age. easy going, a bit standoffish but with age will be fine. not overly friendly going up to strangers wagging tails and jumping.. my pups wont do that.
Notes: I am eager to see what we get.
Prediction Litter: Onyx X LORI (did not have pups)
---
Notes 7-24-22: Came into heat and tied with Warleggin on July 14th 2022. Tied with Warleggin July 15th. Put Noodle in with Lori, no tie was seen.
Health Record
LORI HEALTH NOTES:
AUGUST 2021 CAME INTO SEASON bred with Pepper.
Oct 2021 had puppies
March 1, 2022 In heat: no pups Onyx
July 14th bred with Warleggin
Photo Gallery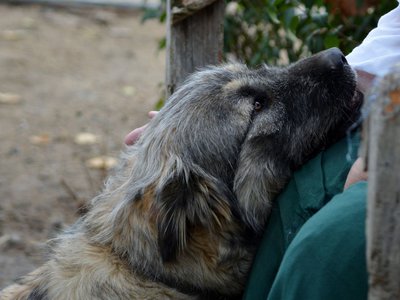 Lori with Lois. Up for adoption after her first litter.
Lori the Doll
Test Scores
Test
Birth Scores
(Oct. 17, 2020)
Intelligence (process of thought)
9 8
Pitch of/Vocal sounds
10
Barking
9
Whining and talking back
10
Prey drive
8
Chewing
8
Swallowing stuff
9
Dominance/aggression towards humans
10
Challenging owner/trainer
10
Child friendly
10
Dominance/aggression towards other dogs
10
Dominance/aggression towards smaller animals
10
Soft/hard bite (mouth)
10
Touch sensitivity
9
Emotional sensitivity
8
Sound sensitivity
10
Ease of training for the average person
9
Velcro (not wanting to wander)
7
Genetic hyperness or Energy level (pacing the fence line)
10+
Investigative or inquisitive (independence)
8
Stubborness (doing what it wants instead of what you want)
8
Eating of feces
10
Sanitational pooping in the designated spot
10
Sloppy drinking
9 whiskers
Age of life
12
Health issues
0
Retrieving or carrying objects
9
Digging
9
Conformation
8 low back topline.
Girth
10+
Eyes
9
Ears
3
Nose
10
Girth of Skull
10
Length of Tail
10
Feet
10
Neck
10
Topline
9
Gait
10
Litters
Pepper X Lori 2021
---
---
About the Litter (American Alsatian)
11/15/2021 They are on their way!!
11/9/2021 Lori is having the time of her life in the house, getting chicken, goodies and lots of love! She is due any day and we will be keeping the site up to date, as well as Lois's Facebook page (if you have not friended her, you can do so at https://www.facebook.com/schwarzkennels)
11-27-21: Ok, here is the update on the Lori x Pepper litter. BETTER THAN THE PARENTS is what we have here! As we figured, but as breeders we have to assume the worst and wait for the best. Again, we have DIRE WOLVES...............Since we kept 4 of Qleanna's pups to be absolutely sure we would have pups from all that i have done before this, we can sell all but one. But which one? Everyone but the white face pup has scored HIGH on our AmAlsatian charts and this is why it is so difficult for me to 'choose' which one stays. So how we go from this now is... Who do we NOT need..... This is now coming from a 'breeders' view, not as a pet owner or DireWolf owner as all pups will be direwolfish looking as i predicted when i kept the four out of Qleanna.
I am extremely clingy with these pups and i am not easily going to let them go. You are going to have to pull a rabbit out of a hat to get one away from me.. Ok... So, as a breeder we do NOT need a female.. (lucky you that want females !).. Those will be the first up for sale. As a long time breeder i shall keep ONE female up in price (just in case) as we do NOT want to not be able to bounce back if (God forbid) something should happen to any of these pups, so now i can put prices on the females. [This is how we do our choosing and pricing]. Go to each pups page and the for sale page for prices as they come down...At six weeks old we shall have our pick and all prices set... Thank you for loving my dogs <3
12-7-2021 All puppies and Lori were wormed with NemexII
1/6/2022 Please see the individual puppies pages for additional notes.


---
---