Kip's "Tiki" Azteca Von Draygo
Notes

NOTES ON TIKI:
Interested in:
Kayla Exum
Is this pretty easy going right here? This looks like a keeper.
Not as laid back as Blu Apache but i don't need a laid back dog in this pup. I want a solid stud with some go power. We shall continue watching this boy.
11-24-20: Found out this guy was a girl last week. Not a forward outgoing pup. Standoffish but not shy. Takes her time to think. Is LEARNING and paying attention to things. looks like she also has slanted eyes and no stop. I shall wait until the six week mark to choose my breeder keepers.
12-1-20:  Put this pup in with Sela since her pups are all gone. Kip is also gone to new home.
They are all doing well and eating good.  This pup is now coming forward. Knows where the food comes from. Thinking of keeping this pup of course. Coat is getting fluffier.
3-1-23:
Kip's Tiki Von Draygo
Mixed Ancestry
52.3% Alaskan Malamute
38.0% German Shepherd Dog
9.7% Irish Wolfhound
Health Record
HEALTH RECORD ON TIKI:
Nemex II 11/14/2020, 12/3/2020
Duramune Max 5 - 12/27/2021
June 2022: Was Bred to Warleggn
Photo Gallery
Tiki Pup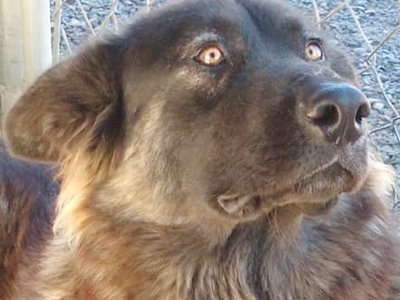 Test Scores
Test
Birth Scores
(Dec. 1, 2020)
Intelligence (process of thought)
10
Pitch of/Vocal sounds
9
Barking
9
Whining and talking back
8
Prey drive
8
Chewing
9
Swallowing stuff
9
Dominance/aggression towards humans
10+
Challenging owner/trainer
10+
Child friendly
10
Dominance/aggression towards other dogs
9
Dominance/aggression towards smaller animals
9
Soft/hard bite (mouth)
10
Touch sensitivity
9
Emotional sensitivity
9
Sound sensitivity
10
Ease of training for the average person
8
Velcro (not wanting to wander)
7
Genetic hyperness or Energy level (pacing the fence line)
8
Investigative or inquisitive (independence)
7-8
Stubborness (doing what it wants instead of what you want)
8
Eating of feces
10
Sanitational pooping in the designated spot
10
Sloppy drinking
9
Age of life
13
Health issues
Doesnt do well on kibbles. Does good on meat.
Retrieving or carrying objects
7
Digging
7
Conformation
7 small
Girth
7
Eyes
10+
Ears
10
Nose
10
Girth of Skull
8
Length of Tail
9
Feet
9
Neck
9
Topline
9
Gait
10