Sela's Okra Von Naga "Onyx"
Notes
Sela's Okra Von Naga "Onyx…
Mixed Ancestry
42.0% Alaskan Malamute
38.2% German Shepherd Dog
13.6% Irish Wolfhound
6.2% Unresolved
Largest pup in litter. Was black/turquoise collar. Easy going not bothered by me after a full tummy. White tulip on chest. long body.
Breeder/Keeper. This pup is a follower but can be a bit challenging to an owner that is too soft. He will need to be trained with distinction. He is a thinker and will out smart you.
co-owned with Christa French
Used for stud during February 2023 with the following females:
Health Record
11/14/2020 Wormed - Nemex II
11/21/2020 Dhalp+Parvo

Photo Gallery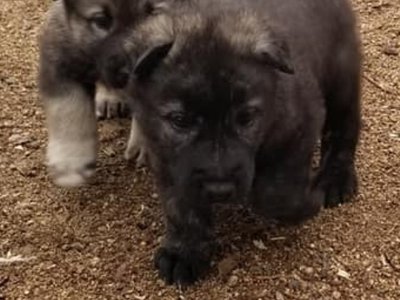 Sela's "Okra" von Naga "Onyx"