Neera's Peter Parker von Tudor
For Sale: $4800.00
Notes
12/24/2021 Very quiet boy. Not quite sure now that their eyes are open that they like all that is going on. This boy would much rather sleep!
12/26/2021 This boy is the first to wake, first to play, first to get moving, first to explore! He would love to go hiking with you when he is bigger and explore the sights and might even enjoy camping! (He plays and gets moving in a slow manner btw... no big jumps out of him at this time, he is just the more active of the three!)
1/3/2022 This boy is really coming around. He is a very quiet boy. Still aloof, in that he would rather sleep than wake up and eat, or play. Not food motivated like Stan Lee. Enjoys laying with you if you hold him, but will be find just watching you as well. Each of these boys will be larger. Not so much in weight, but in size. No long runs/walks with them until they are at least 1, and NO playing around or rough housing with larger dogs! They will not know there size and will play without realizing they can get hurt!
1/7/2021 First out of the den, bold, independent, ready to take on the world, too smart for you. Velcro to humans, easy to train. Training: Needs lap therapy. Learns no at 4 weeks. Fast learner.
12/29/2021 4.6 lbs
1/10/2022 7.4
Temperament Test 3.5 Weeks - 9
Health Record
Photo Gallery
1/10/22
1/10/2022
Peter Parker 1/10/2022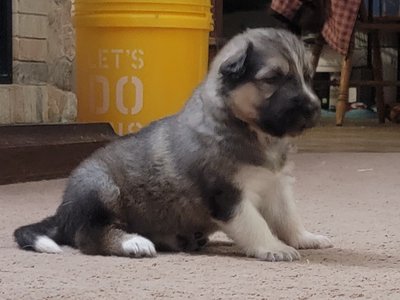 Thinking 1/1/2022
Happy New Year! 1/1/2022
Kitties are new! 1/1/2022
Handsome boy. 15 days old.
Pretty face. 😍
Green pups long day.
6 Days Old
6 Days Old
6 Days Old